U.S. E-Commerce Sales Increase Again in Q3'23
Summary
Online sales remain on moderate growth path this year.
Nonstore retail sales are strong y/y.
Furniture, electronics & other consumer durables sales fall y/y.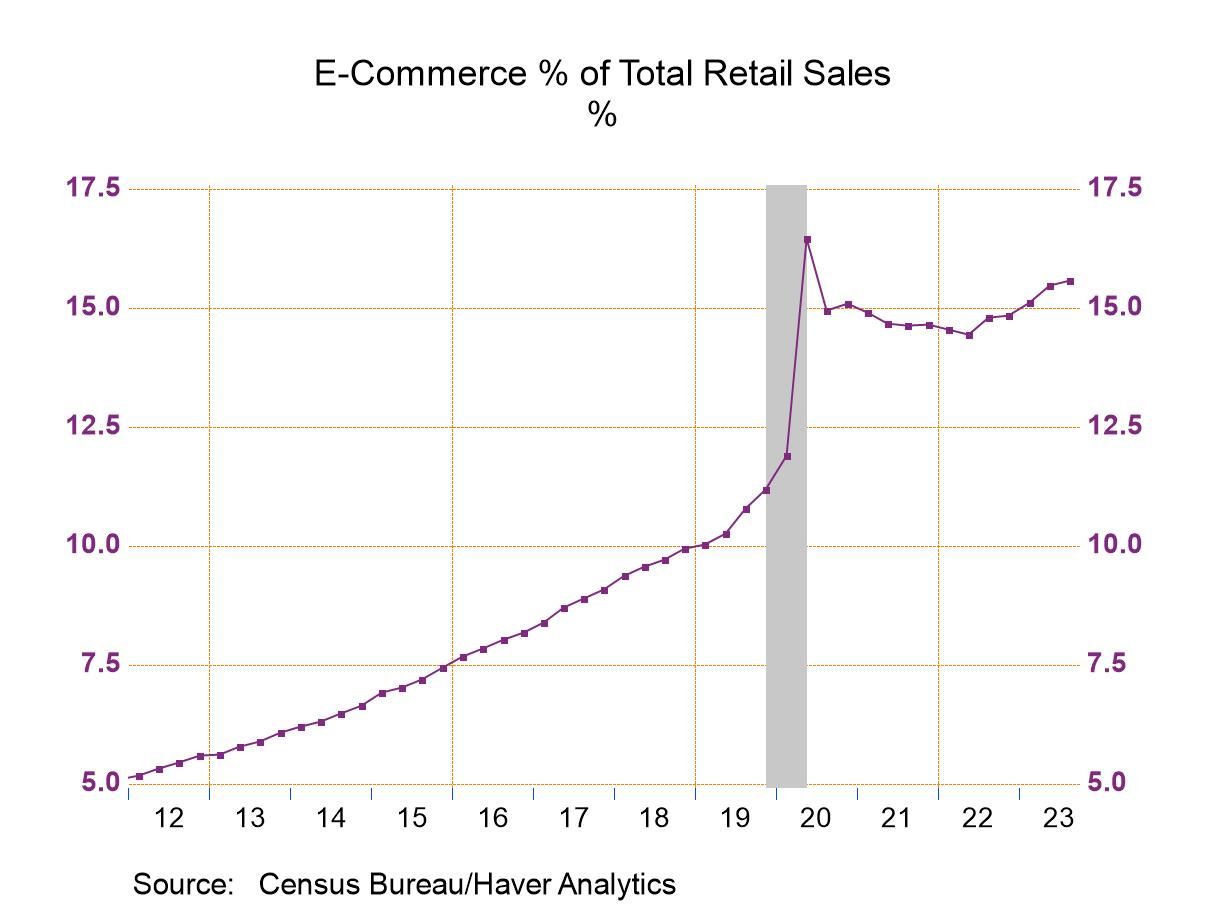 Online retail sales rose a seasonally adjusted 2.3% in Q3'23 following an increase of 2.2% in Q2 and 2.7% in Q1, according to the U.S. Census Bureau. Sales rose 7.6% y/y, roughly the same as in 2022, but below growth of 10.7% in 2021 and 45.6% in 2020 (Q4/Q4). E-Commerce sales, store and nonstore, accounted for 14.7% of total retail sales in Q3'23 after rising slightly since 2020.
The following details of the E-Commerce data by sector are not seasonally adjusted.
Sales of nonstore retailers, which accounted for 61.8% of total E-Commerce, rose 12.4% y/y last quarter following a 12.2% y/y rise in 2022. General merchandise store sales rose 8.7% y/y following last year's 0.8% rise, and health & personal care store sales increased 4.7% y/y on the heels of a 0.8% 2022 decline. Food & beverage store sales improved 5.1% y/y after a 5.7% rise last year while sales of building materials & garden equipment rose 4.1% y/y, down from 8.6% growth in 2022.
Elsewhere, sales declined. Furniture & home furnishing sales weakened 16.2% y/y after rising 1.5% in 2022 while sales of motor vehicles & parts declined 3.2% y/y after falling 3.7% last year. Electronics & appliance store sales declined 1.6% y/y following a 14.6% 2022 fall. Clothing accessory store sales declined 0.8% y/y after a 5.7% 2022 rise and sporting goods, hobby shop, musical instrument & book store sales fell 1.0% y/y after rising 5.1% y/y in 2022. Miscellaneous sales, including gasoline stations, weakened 5.9% y/y following an 8.4% rise last year.
E-commerce sales are goods and services ordered over an internet, mobile device (M-commerce), extranet, Electronic Data Interchange (EDI) network, electronic mail, or other comparable online system. Payment may or may not be made online and sometimes sale & price are negotiated. Total sales estimates are adjusted for seasonal variation, but not for price changes. They are also adjusted for trading-day differences and moving holidays.
E-Commerce sales data can be found in Haver's USECON database.
Prior to joining Haver Analytics in 2000, Mr. Moeller worked as the Economist at Chancellor Capital Management from 1985 to 1999. There, he developed comprehensive economic forecasts and interpreted economic data for equity and fixed income portfolio managers. Also at Chancellor, Mr. Moeller worked as an equity analyst and was responsible for researching and rating companies in the economically sensitive automobile and housing industries for investment in Chancellor's equity portfolio.   Prior to joining Chancellor, Mr. Moeller was an Economist at Citibank from 1979 to 1984.   He also analyzed pricing behavior in the metals industry for the Council on Wage and Price Stability in Washington, D.C.   In 1999, Mr. Moeller received the award for most accurate forecast from the Forecasters' Club of New York. From 1990 to 1992 he was President of the New York Association for Business Economists.   Mr. Moeller earned an M.B.A. in Finance from Fordham University, where he graduated in 1987. He holds a Bachelor of Arts in Economics from George Washington University.

More in Author Profile »
More Economy in Brief