U.S. Chicago Business Barometer Tumbles in May
Summary
Index falls back to lowest level since November.
Component declines are widespread.
Prices paid index falls to three-year low.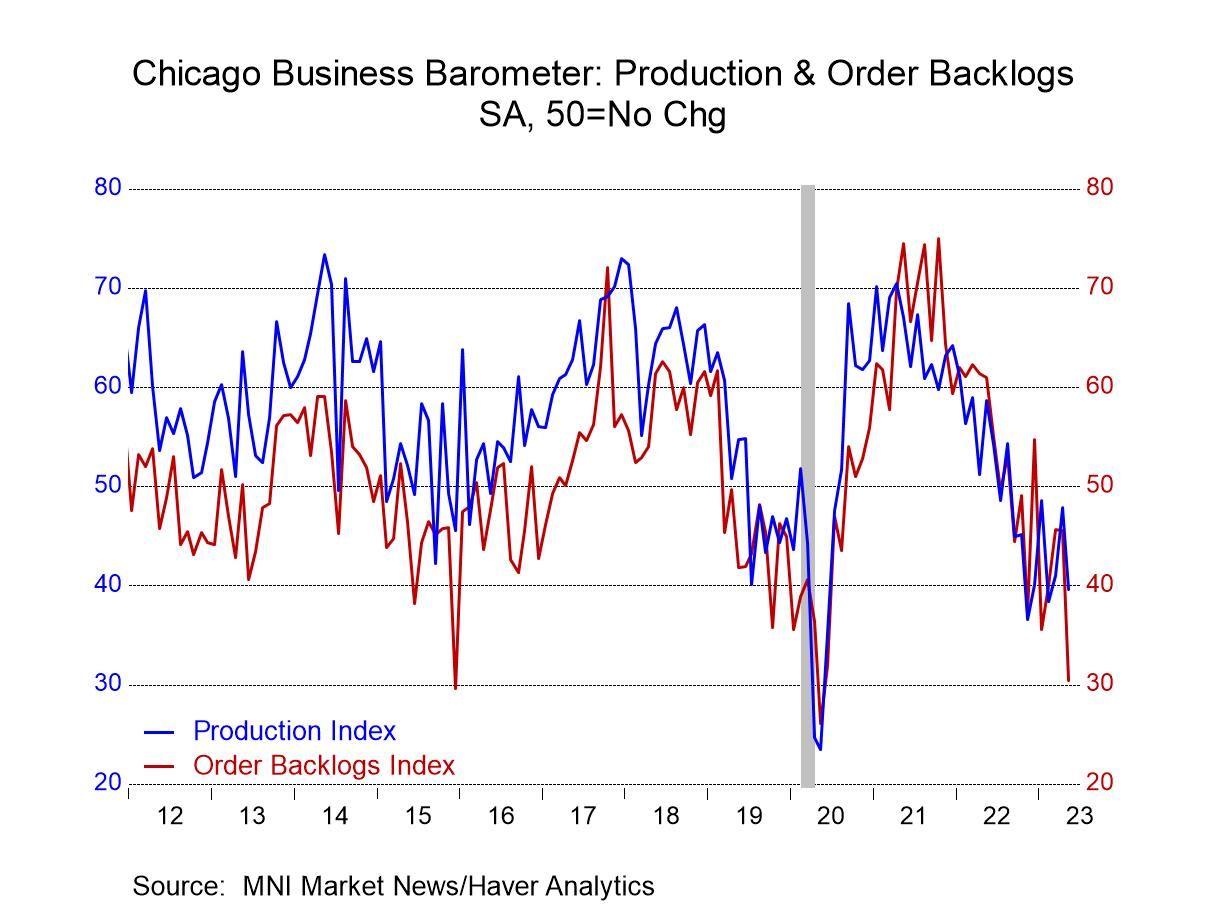 The ISM-Chicago Purchasing Managers Business Barometer dropped to a seasonally adjusted 40.4 during May from 48.6 in April and remained below 50 (the break-even point for overall activity) for the ninth consecutive month. The index peaked at 71.3 in May 2021. A reading of 47.0 had been expected in the Action Economics Forecast Survey.
Haver Analytics constructs an ISM-Adjusted Chicago Business Barometer with methodology similar to the ISM Composite Index. This measure fell to 44.8 in May from 49.7 in April. It indicates decline in business activity overall in recent months. The latest reading remains below a 64.4 high in October 2021.
The order backlog measure collapsed to 30.4 from 45.5 In April. Seventeen percent (NSA) of survey respondents reported larger backlogs while 52% reported them smaller. The production measure fell to 39.6 from 47.9. A greatly lessened 13% of survey respondents reported higher production while an increased 30% reported lower. The employment index eased to 48.5 after surging to 51.2 in April. A lessened eight percent of firms reported higher payrolls while a steady 12% reported a decline. The new orders reading of 39.7 was reduced from 45.7 in April and was the lowest reading in six months. The supplier-delivery series eased to 52.1 from 54.8. The inventories index fell to 44.3 this month from 48.7 in April. It had surged to 58.5 in March.
Inflation pressures diminished in May. The prices paid index weakened to 60.9 from 70.3, and stood at the lowest level since August 2020. The index remained below the high of 94.6 in November 2021. A greatly lessened 33% (NSA) of respondents reported an increase in prices, compared to 55% in April, while eight percent reported lower prices.
The Chicago Business Barometer is considered to be a leading indicator of the U.S. economy. An indicator reading above 50 indicates expansion while below 50 suggests contraction. Summary data are contained in Haver's USECON database with detail including the ISM-style index in the SURVEYS database. The expectations figure from the Action Economics Forecast Survey is in the AS1REPNA database.
Prior to joining Haver Analytics in 2000, Mr. Moeller worked as the Economist at Chancellor Capital Management from 1985 to 1999. There, he developed comprehensive economic forecasts and interpreted economic data for equity and fixed income portfolio managers. Also at Chancellor, Mr. Moeller worked as an equity analyst and was responsible for researching and rating companies in the economically sensitive automobile and housing industries for investment in Chancellor's equity portfolio.   Prior to joining Chancellor, Mr. Moeller was an Economist at Citibank from 1979 to 1984.   He also analyzed pricing behavior in the metals industry for the Council on Wage and Price Stability in Washington, D.C.   In 1999, Mr. Moeller received the award for most accurate forecast from the Forecasters' Club of New York. From 1990 to 1992 he was President of the New York Association for Business Economists.   Mr. Moeller earned an M.B.A. in Finance from Fordham University, where he graduated in 1987. He holds a Bachelor of Arts in Economics from George Washington University.

More in Author Profile »
More Economy in Brief