Global
| Dec 27 2017
Spain's Retail Sales Gain But Are a Long Way from Past Levels
Summary
It is always good to maintain some perspective. Spain's retail sales are expanding and sequentially accelerating for nominal sales as well as for real sales. But the sense of acceleration is modest, especially for real sales. Two [...]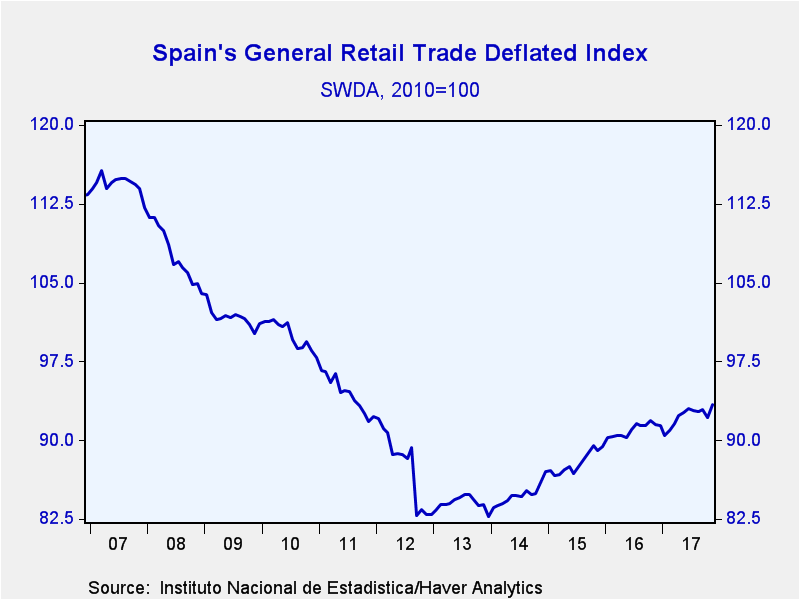 It is always good to maintain some perspective. Spain's retail sales are expanding and sequentially accelerating for nominal sales as well as for real sales. But the sense of acceleration is modest, especially for real sales. Two months into the fourth quarter the pace of real and of nominal sales has turned negative. And, as the chart reminds us, the inflation-adjusted level of sales is well, well, below its past cycle peak.
For those who want to tell a tale of European revival, growth, affluence and a return to normalcy...take a look here. And it needn't even be a close look. Not only are sales levels not anywhere back to pre-austerity levels but despite the acceleration depicted in the sequential growth rates real sales appear to be flattening out.
Comparisons with Christmas-past In the UK we are told that boxing-day sales fell flat. These are the day after Christmas sales that are big sales that British consumers generally look forward to. The story seems to be that pre-Christmas sales satisfied people enough that shopping the later sales was not essential. In the US merchants report that Christmas sales went well enough that their post-holiday sales will not be as aggressive. Thus post-Christmas US sales and sales in January could slump.
The 800 pound elephant in the room The retail sales sector is being out through new paces but all the changes are led, of course, by internet shopping. For the holidays if you have a diaspora family, on line shopping is a real boom and it is much easier than shopping physically and having to shop, wrap, box and trek to the post office for every family member. So we will have to wait and see how holiday shopping really shakes out. Merchants seem content with sales on the holiday per se. But then expectations have been lowered. In the US it's being billed as the best holiday sales since 2011 but this year's gains are being reported as far inferior to their growth in 2011, so the comparison with that benchmark rings somewhat false.
The jury is still out on the holiday Retailers also consider post-holiday sales as part of their holiday package so we will want to see how the whole lot of sales goes. There is optimism in the air about job gains and solid to strong consumer confidence. But I will wait to let the numbers do the talking. Malls in America have been dying for some time, spending patterns have shifted. Even recreational shopping seems to be pulling back. In Europe Spain's sales short fall from past peaks is a hard reminder of how severe austerity was in some nations. European unemployment rates by country are still a broad scatter and not a point. While there is a lot of talk of wages normalizing there is a lot of hope and expectation on that score but little evidence. I think the global economy is still laboring under the same pressures it has seen all recovery long. Some aspects of growth might be a bit better. Job growth is broader. But it is not stronger and wages are not really going up faster and too many jobs are still being created in low skill areas. I still see a lot of the same forces in play and I have not notched up my optimism up for 2018.
Robert A. Brusca is Chief Economist of Fact and Opinion Economics, a consulting firm he founded in Manhattan. He has been an economist on Wall Street for over 25 years. He has visited central banking and large institutional clients in over 30 countries in his career as an economist. Mr. Brusca was a Divisional Research Chief at the Federal Reserve Bank of NY (Chief of the International Financial markets Division), a Fed Watcher at Irving Trust and Chief Economist at Nikko Securities International. He is widely quoted and appears in various media.   Mr. Brusca holds an MA and Ph.D. in economics from Michigan State University and a BA in Economics from the University of Michigan. His research pursues his strong interests in non aligned policy economics as well as international economics. FAO Economics' research targets investors to assist them in making better investment decisions in stocks, bonds and in a variety of international assets. The company does not manage money and has no conflicts in giving economic advice.

More in Author Profile »
More Economy in Brief